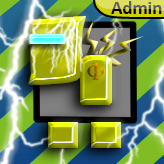 StuffMaker is the most active developer and an admin of CubeBomb.
He's user #2 and is very friendly to everyone in the community.
He's one of the great people that attracts all the traffic to CubeBomb and inspires such a great community!
He's a nice person that anyone who joins CubeBomb would do good to meet.

He's constantly working on CubeBomb, yet still takes the time to surf the forums, chat a little, and take people's ideas and suggestions. He's a great dev and member of the community.
Salute!