It's February of the new year, and the days are quickly flying by. Only a month or so until the relaunch of CubeBomb as a new community site and social network, rather than the front for a game. This will bring many changes to the way users communicate with each other and ways they can interact.
Here's a list of possible updates, originally listed on the homepage after the Great Shutdown of December 2010.
_________________________________
list to go here
_________________________________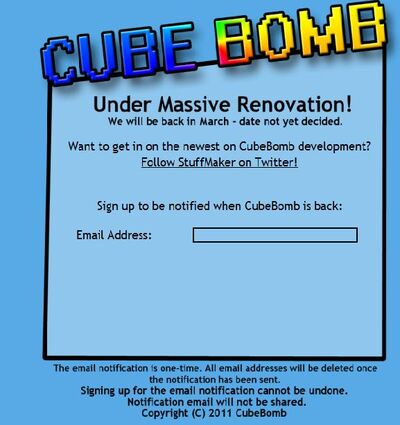 As these are confirmed and information is released, new articles will be greatly needed.
Until then, the list of things to do are found here.
The photo to the right is the landing page of the official CubeBomb site as of February 11, 2011.
It's recommended you confirm your e-mail there as to not miss out on the official relaunch. It's confirmed by CubeBomb developers that they will not spam or sell this e-mail and all e-mails will be wiped after the confirmetion is sent.
All e-mails and account detail from before the Great Shutdown are said to be saved for after the re-launch.